Named after the Cantal Mountains in the Auvergne region of France, this French cheese is one of the oldest of European cheeses. Pliny's Historia Naturalis, written over 2000 years ago (in the 1st Century AD) says this cheese was a favorite in ancient Rome. Due to their effective transportation network, the Roman cheese markets included many fine samples from the French Jura and Central Massif areas. The part of France called Cantal is located in the higher southern portion of the ancient province of Auvergne on the edge of the Massif Central, a symmetrical volcanic mass culminating in the 6096 foot high precipice known as the Plomb du Cantal. Sheets of solidified lava flow extend to southeast and north and many streams find their way to the Allier, Dordogne, and Truyère rivers - now sources of hydroelectric power. This beautiful region is famous for its waterfalls.
In the high country an alpine pastoral economy prevails. Roads twist through valleys, climbing up to the wooded crests, and only the farms dispersed in hamlets reveal the paleness of the granite. Everywhere there are structures that are being renovated, inviting tourists to imagine what it would have been like to live in these mountains hundreds of years ago with its burons (old farm buildings where cheese was made), communal baking ovens, water mills and "cow shoeing" sheds. And we are told you should be on the lookout for mouflon (wild sheep), roe deer, pine-martens, buzzards, and chamois (cliff goats with big horns). If you are in the right place at the right time, you may be lucky enough to see a black woodpecker! Cattle graze on aigades (mountain pastures) from May to September while the herdsmen spend their summers in low stone seasonal shelters making Cantal cheeses. It takes the milk of 30 cows to make a 110-pound wheel of cheese.
This cheese is often referred to as "French cheddar," although the recipes for Cantal and Cheddar are very different and so are the resulting textures. When young, Cantal has a mild, buttery flavor that, over time, develops into a pleasant bite, reminiscent of sharp cheddar. Cantalete Dore is a smaller version of a Cantal wheel, similar but more manageable. Under the hard gray-gold colored rind of our Cantalete wheel hides a soft, slightly sour hazelnut core. This is a cheese that becomes a great snack or even a dessert when accompanied by many fruits - apples, grapes, pears, or a bowl of mixed berries. Cantal works well when thinly shaved on sandwiches. It is also an excellent after dinner cheese.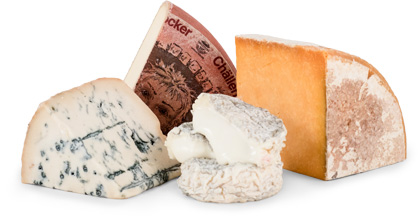 Experience International Variety
You might receive a Gaperon, originating in France during the 14th Century, an
authentic Lancashire by Ruth Kirkham, and an Italian Taleggio matured in the
caves of Valsassina…all in one shipment!
DISCOVER OUR TWO CLUBS