Canal Junction Farm, owned and operated by Ralph and Sheila Schlatter, prides itself on being sustainably farmed. The Schlatters place an enormous emphasis on the soil types and grasses grown in the pastures where the cows graze, and have elected to only make cheeses from these 100% grass-fed cows.
Like all their cheeses, Flat Rock is also terroir driven, a direct result of the soil in the pastures where the cows graze. It is aptly named after Flat Rock Creek, which runs south of the farm. Its style mimics that of the French alpine-style cheese called Abondance, which is a semi-hard, fragrant, raw-milk cheese made in the Haute-Savoie region of France.
Aged for four to six months, Flat Rock's rind is a rich amber hue. Just under the rind, the cheese itself is also a luxuriant golden color. The paste is firm and grainy, yet still pliable and supple. It has a pronounced aroma and an intense buttery, fruity, and toasted hazelnut flavor profile that is balanced nicely with a touch of lactic acidity and sweet grass that lingers lovingly on the palate. We love the complexity and interplay of texture and flavors that this cheese imparts as it warms to room temperature. You can almost taste the soils and grasses of the pastures where the herd grazes, as fragrances of bright vegetation emerge when slicing the cheese.
Flat Rock pairs well with a variety of different libations. We suggest trying it with dry reds like cabernet sauvignon, malbec, and merlot; riesling; hard cider; a big Russian imperial stout; or a hoppy ale. Slice and add it to a fresh fruit and cheese tray. It will also melt nicely for fondues and grilled cheese sandwiches.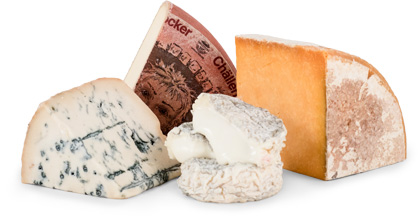 Experience International Variety
You might receive a Gaperon, originating in France during the 14th Century, an
authentic Lancashire by Ruth Kirkham, and an Italian Taleggio matured in the
caves of Valsassina…all in one shipment!
DISCOVER OUR TWO CLUBS