Campo de Montalbán hails from Toledo in Spain's Castilla–La Mancha region, perhaps most well-known for Don Quixote's numerous battles with windmills, but also for its sheep's milk cheese, Manchego. Quesos Corcuera, founded by Eusebio Corcuera Gómez more than six decades ago, makes El Trigal Manchego and Doña Julia goat cheese, as well as this world-class, three-milk delight, which was originally conceived to make use of leftover milk. After being passed first to Eusebio's brothers, Ramón and Carlos, today sister Carmen is the owner-operator of Quesos Corcuera.
Campo de Montalbán was once classified as a Manchego, but in 1985, when the Denominación de Origen Protegida (DOP) standards began requiring the use of one-hundred percent sheep's milk, Quesos Corcuera renamed the cheese to Campo de Montalbán, the "countryside of Montalbán," in honor of the town in which it is made, La Puebla de Montalbán.
Campo de Montalbán is a pasteurized, semi-hard, mixed-milk cheese aged around 100 days – a minimum of three months – prior to release. It is made from a minimum of forty percent goat's and sheep's milk and the remainder cow's milk, although the percentages vary slightly based on milk availability. Visually and texturally, Campo de Montalbán resembles Manchego, with its firm but creamy texture, ivory paste, and brown, striped rind. However, on the palate, this cheese is unique because of the depth, breadth, and batch variance of its flavor profile, thanks to the varying milk percentages and the influence of the animals' pastoral terroir – the variety of seasonal grasses and herbs they consume. Campo de Montalbán shows a near-perfect balance of acidity, nuttiness, and the salinity and sweetness of freshly churned butter. Use Campo de Montalbán like you would other Spanish cheeses, such as Manchego or Zamorano. Grate it on pasta, pizzas, soups, and salads. Use it as a melting cheese in macaroni and cheese, fondue, or atop burgers. Serve it alongside higher-acid foods like roasted tomatoes or fruit pastes like quince. Pair it with the red wines from Castilla–La Mancha – Tempranillo, Bobal, Garnacha, or Monastrell – or Syrah and Bordeaux-style reds like Cabernet Sauvignon, Merlot, and Petit Verdot.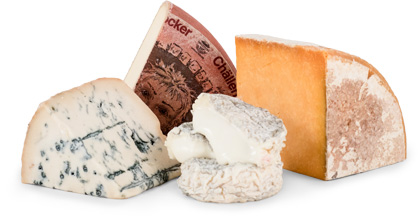 Experience International Variety
You might receive a Gaperon, originating in France during the 14th Century, an
authentic Lancashire by Ruth Kirkham, and an Italian Taleggio matured in the
caves of Valsassina…all in one shipment!
DISCOVER OUR TWO CLUBS