This triple cream brie-style blue cheese hails from the Allgäu region in southern Germany. Making its first appearance in the 1900s, Cambozola was revamped in the 1970s by German creamery Käserei Champignon. As one of the most modern creameries in Europe, Käserei Champignon uses pure milk from local dairy farms that use no preservatives, additives, stabilizers, artificial flavors, or gluten. All the milk that comes into the creamery is rigorously tested for quality and freshness which guarantees the freshest and best possible cheese. The Cambozola Classic cheese you have in your shipment today is smoother, creamier and milder than a typical blue, so even folks who think they don't like blue cheeses because they're "too strong" may find themselves craving more.
Cambozola Classic has a delicate blue cheese flavor and a softer—almost spreadable—texture than a typical blue style cheese. As mentioned earlier, Cambozola can be a great transition cheese for lovers of milder cheeses who have yet to learn to appreciate the stronger blue cheeses. It is an excellent cheese in salads; consider blending it into a vinaigrette salad dressing. Serve it with crackers as an appetizer. It's also an excellent dessert cheese that should be served with fruit or even bubbly—after all, it is the holiday season. Here's to yours!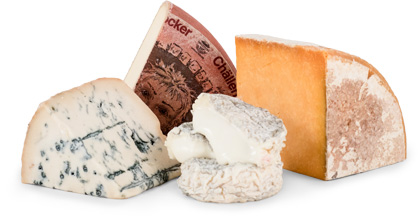 Experience International Variety
You might receive a Gaperon, originating in France during the 14th Century, an
authentic Lancashire by Ruth Kirkham, and an Italian Taleggio matured in the
caves of Valsassina…all in one shipment!
DISCOVER OUR TWO CLUBS