The story behind this gourmet treat combines love and another passion of ours—cheese. It begins with that wonderful past time we know as lunch. Well, it should be wonderful—and romantic! What's so romantic about lunch? Setting has a tremendous impact, especially when that setting is the Roman countryside. This is where, every day for six months, Michele Buster enjoyed her lunch. She had discovered the Sini family's restaurant, Buonatavola, and every day she tasted Sini Fulvi's own cheeses, as well as other select cheeses from Portugal, Spain and Italy (many of which we send to our members). Michele, an American, traveling to such places as Barcelona, Ireland and Italy to set up international sporting events, fell profoundly in love with handcrafted European cheeses! And who could blame her? At first, she fell in love with one particular cheese. With a bit of a language barrier, when the waiters sometimes brought the wrong cheese, she would say, "No, no! Bring the one with the black label." The object of her affection was a semi-soft, mildly peppery, ewes' milk cheese called Cacio de Roma. Perhaps influenced by the intoxicating nature of this culinary treat, Michele then fell madly in love with the man who made her favorite cheese, Pierluigi Sini. (Who knew cheese was an aphrodisiac?) The two of them joined together and moved—not to a home in Italy, but to Astoria, Queens, in New York City. Together, they would introduce the cheeses of Pierluigi Sini's family to America. These days, Michele enthusiastically promotes cheese instead of sports, and gives seminars about the many aspects of handcrafted cheese making. She has been known to fly around the country in order to educate staff at cheese stores. In large part, it's to make them feel more comfortable about mold. "Mold is natural and doesn't ruin cheese. Nor is it unsafe. It doesn't mean the cheese is bad. You don't have to eat it but you can certainly eat the cheese beneath," says Michelle.
The Sini family has been making Cacio de Roma and other cheeses on a small dairy farm in the Village of Nepi, Province-Viterbo, in the Lazio region of Italy for over 30 years. Many of their cheeses are very unusual and hard to find. Second generation master cheesemaker, Uncle Domenico Sini, uses ewe 's milk collected the same day from local shepherds to produce Cacio de Roma just as his forefather's did. Once the cheese obtains its form and some texture, it is bathed in sea salt for 24 hours and then aged on wood in cellars for 30 -60 days. The end result is a creamy textured cheese with a mild, balanced flavor with a slightly fruity finish. It is the essence of the classic Italian table cheese found universally in Central and Southern Italy. In Italy, this type of cheese is referred to as a Caciotta (Kah-CHO-ta) for its small round form. "Cacio", meaning cheese, is generally used in Central and Southern Italy while "formaggio" is the more recognized word in the rest of Italy. Not only is it enjoyed as a table cheese either before or after a meal, it is also used in everyday cooking as it melts exceptionally well. It is used as a filling for ravioli, grated or cubed in salads, on pizza and for simple sandwiches like grilled cheese, for instance.
One of Sini Fulvi's own masterworks, this cheese is semi hard, mildly peppery and slightly acidic. The cheese that first brought Pierluigi and Michele together comes in a "Rustico Black" made with whole black peppercorns, or a version made with crushed red pepper. Either variety will give you a light nip on the tongue. It is great in lasagna, and wonderfully bold in quesadillas.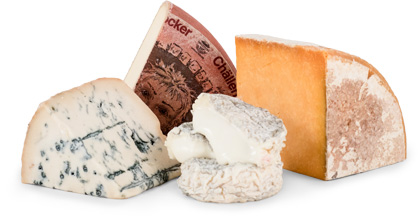 Experience International Variety
You might receive a Gaperon, originating in France during the 14th Century, an
authentic Lancashire by Ruth Kirkham, and an Italian Taleggio matured in the
caves of Valsassina…all in one shipment!
DISCOVER OUR TWO CLUBS