So you like cheddar? This one is pretty special. Every single batch of Nor'Easter is hand-selected by Zingerman's Deli, rated as one of 25 of the World's Best Food Markets by Food & Wine magazine. Zing's team of buyers has worked with Cabot for many years now to hone in on a specific flavor profile. Cabot sends them several cheese plugs and they select the best match to their desired flavor profile. It's a pretty special and unique process and very few retailers have this kind of relationship with cheesemakers and affineurs. In the end, it involves tasting a lot of cheese, visits to farms and cheesemakers, and quite a bit of communication between the parties. Zingerman's boasts that all that extra effort rewards anyone who tries this cheese, and that "You will taste the difference!"
Cheddar is made all over the world but this cheddar hails from Vermont so Team Zingerman's wanted a true New England flavor profile. This 12-month aged cheddar offers a slightly crumbly paste that gets very creamy at room temperature, but is still plenty firm enough to slice. The flavor is slightly sweet with just the right amount of acidity and tanginess. Every cheddar has some amount of sulfur in the flavor profile, some more than others. New England cheddars are known for showcasing this flavor and it's affectionately referred to as 'the New England burn'. For some, this is an acquired taste so while you'll taste and smell hints of this, it's not front and center. In the end, big, beefy broth, savory sweet and tangy sharp, mouth-watering juicy flavors prevail. You're going to love it.
This is a very versatile cheese. It's dipped in wax which makes it very handy for picnics and snacking on the road or even at work. It compliments rather than overpowers other cheeses on a cheese board and it's great with salami, crackers and olives. Pairs well with many types of beer, cider and wine.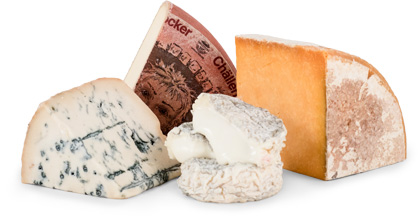 Experience International Variety
You might receive a Gaperon, originating in France during the 14th Century, an
authentic Lancashire by Ruth Kirkham, and an Italian Taleggio matured in the
caves of Valsassina…all in one shipment!
DISCOVER OUR TWO CLUBS