Charles de Gaulle once bemoaned: "How can you expect to govern a country that has 246 kinds of cheese?" France—a country about the size of Texas— does have more varieties of cheese, by far, than any other country, and each one is distinct. From among the many, we chose the Bourdin, a classic French cheese, because it's so delicious, yes, but also because it's so versatile!
In the cheese lover's paradise of France, the professional cheesemaker learns his craft as painstakingly as an attorney at law. It is with these traditional artisan techniques that this fresh goat cheese has been crafted, making it one much prized by connoisseurs and commoners alike. Taking inspiration from the walnut covered German Brie and the wine soaked Ubriaco, this goat cheese is also a perfect base on which to add your own touch of flavors. Garnish it with fresh herbs or spices: crushed black peppercorns, lemon zest or a little rosemary and thyme, for instance. Consider marinating it in oil to make this tasty cheese even more exotic. You can even lightly dust it with paprika. Also known as chèvre, goat cheese makes an excellent dessert served with bread and fruit, and commonly appears on European dinner tables as a typical after dinner treat.
This style of fresh chèvre is a staple in French markets, and for very good reason. It has a soft and moist texture and a gentle but creamy flavor. While this wonderfully versatile cheese may be eaten by itself, it is the perfect backdrop to let your culinary imagination run wild! It can be paired with fruit—figs would be especially exotic—honey or jam. It also adds depth into any salad. A traditional European way of serving fresh goat cheese is alongside olives and/or olive oils.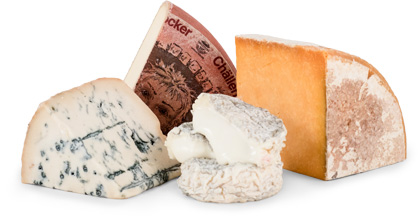 Experience International Variety
You might receive a Gaperon, originating in France during the 14th Century, an
authentic Lancashire by Ruth Kirkham, and an Italian Taleggio matured in the
caves of Valsassina…all in one shipment!
DISCOVER OUR TWO CLUBS