Presenting a clear coppery-amber color and capped with a well-retained head of off-white foam, Undercurrent looks inviting in the glass as it offers up its hoppy aromas. Bent River employs an array of five different hop varieties in this brew, and the results are compelling. Look for plenty of bold citrus character along with resinous herbal notes, floral overtones, and touches of mild spice. Flavorwise, the story is similar, with a bright fruitiness conjuring zesty citrus while some piney, herbal character decorates firm hop bitterness to provide more than enough counterpunch for the satisfying core of caramel and mild toastiness. This tasty and medium-bodied IPA will pair well with foods employing plenty of citrus and spice. Thai lemon basil shrimp, Szechaun orange chicken, or Indian lemon and ginger rice all sound great to us. Cheers!
Starting his own microbrewery had always been a dream of Tim Koster, owner of Koski's Home Brew Fixens in the Historic District of Moline, IL. One day in 1996, homebrewer and Koski's customer Darron Morris asked Tim what it would take to start up a microbrewery. The two summoned the courage to turn their dreams into reality, and Bent River Brewing Company was born in 1997. With the help of several investors, they were able to purchase the remainder of the 1922 Italian Renaissance-style building that housed the homebrew store, and then transform it into a brewpub. The company received an award for their renovation of the building by the Moline Preservation Society. The brewpub features a full menu and plenty of beers on tap, and remains a popular watering hole for the local fans of good craft beer.
In 2012, Bent River Brewing Company added a second location in order to address their need for increased production capacity. Located in Rock Island, this package brewery houses a bottling line and shipping center, allowing the company to efficiently brew and distribute their beer throughout the area. The location also features a tasting room where you can sample any of Bent River's year-round beers as well as their rotating seasonals.
For more information, visit them at www.bentriverbrewing.com, or call 309-797-2722.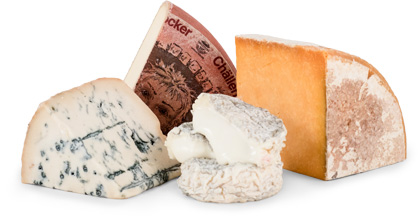 Experience International Variety
You might receive a Gaperon, originating in France during the 14th Century, an
authentic Lancashire by Ruth Kirkham, and an Italian Taleggio matured in the
caves of Valsassina…all in one shipment!
DISCOVER OUR TWO CLUBS