Beehive Cheese Company was founded by brothers-in-law Pat Ford and Tim Welsh who always wanted to bring back the local creamery to Northern Utah and leave their fast-paced lives of real estate and software. In 2005 Beehive Cheese Company officially opened their doors with the help from the Western Dairy Center at Utah State University. Beehive Cheese Company is located about 30 miles north of Salt Lake City in the mouth of Weber Canyon in Odgen, Utah, an area known well for its world-class powder skiing in the winter and meadows of heavenly wildflowers in the summer. The creamery itself is located within walking distance of both families' homes, and being family owned and operated, their children are usually in tow for the short commute of hopping a fence and safely crossing a set of train tracks when Pat and Tim make their way to the creamery. Once there, everyone pitches in for a day of hard work stirring milk, flipping cheese slabs, packaging curds, and rubbing cheese wheels.
As anyone knows, great cheese starts with great milk. Beehive Cheese Company found just that from Wade's Dairy, a farm located just ten miles from the creamery with a mixed herd of Jersey and Holstein cows on approximately 550 acres. Wade's Dairy only makes high quality milk for the sole purpose of making cheese and you'll never find a cow here that has been administered artificial growth hormones or anything else artificial for that matter. When the milk is delivered, Beehive tests each batch for any signs of impurities and for quality by testing the somatic cell count, pH, presence of antibiotics, butterfat and protein levels – anything not meeting Beehive Cheese Company's high standards in denied. With that said, due to the sustainable practices and level of care the cows receive, the milk is always of the highest quality so it's no surprise that Beehive Cheese Company continues to produce award-winning cheeses!
Beehive Cheese Company created this Irish-style cheddar and it instantly became a favorite. According to Beehive, Promontory gets its name from Promontory Summit, the historic location where the Union Pacific and the Central Pacific Railroad lines linked the U.S. nearly 150 years ago. The Promontory cheese in your shipment today has won multiple awards and continues to do so year after year including multiple 1st Place awards in 2008, 2009, 2011, and 2013 at the Idaho Milk Processor's Association. Promontory also received 1st Place in 2011 at the American Cheese Society and a Bronze Medal in 2010 at the World Cheese Awards. To learn more about Promontory and some of Beehive Cheese Company's other award-winning cheeses, visit www.beehivecheese.com.
As the patriarch of the Beehive family of cheese, Promontory is known for its buttery, full-bodied texture and snappy, citrus-like fruity notes. This semi-firm cheese is equally great on its own on a cheese board with some dates and honey, or with anything you would pair a cheddar-style cheese with, like a Panini or grated on a salad. Also, this cheese will need a little time for the full flavor to reach its peak so please allow it to come up to room temperature.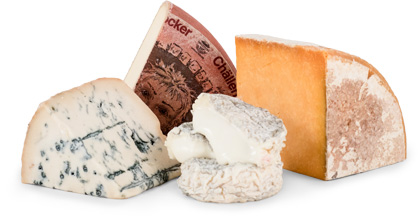 Experience International Variety
You might receive a Gaperon, originating in France during the 14th Century, an
authentic Lancashire by Ruth Kirkham, and an Italian Taleggio matured in the
caves of Valsassina…all in one shipment!
DISCOVER OUR TWO CLUBS