Beecher's Handmade Cheese shops in Seattle's historic Pike Place Market and New York's Flatiron District are a favorite among locals and visitors alike. Kurt Beecher Dammeier, the owner of these now staple cheese shops, has not only been a cheese lover for as long as he can remember, but he also has a passion for food that is free from additives and preservatives. In Seattle, there is no place like Pike's Place Market for fresh produce, fish, baked goods, flowers, and handcrafted items making Kurt a frequent visitor. One day while walking through the market, he noticed a vacate store and that's when inspiration hit for the Beecher's stores where he could make real authentic cheese free of artificial preservatives, coloring and flavor enhancers.
Newly armed with a lease, he put his vision into action. Kurt has always felt that people should know more about the food they eat – where it comes from, what goes into it, and how it is made. With this in mind, one of the first things he did was build a 1,000 sq ft glass enclosed kitchen so people from inside the store or even on the sidewalk can see exactly what is going into the cheese and how the cheese is made. His next priority was to secure local farmers that met his high criteria of cows that are well treated, given high quality feed, and are free of recombinant bovine growth hormones (rBST), and antibiotics. Before the milk is transported to the stores, each batch is tested to make sure that the milk meets Kurt's high standards knowing that the better the quality of the milk leads to better flavor and quality of the cheese. The Beecher's Flagship cheese you have today – including all the cheeses and products made by Beecher's – are free of bovine growth hormones, hydrogenated oils, nitrates and polysorbate.
Flagship is Beecher's signature cheese and is still as popular today as it was when the first wheel was completed; just in time for Beecher's Handmade Cheese grand opening in Seattle, its flagship store. With Beecher's commitment to pure food and quality ingredients, its no wonder that over the years their cheeses and other products, like their World Famous Mac & Cheese, have won an impressive amount of awards. The Flagship cheese is also included in the long list of medals, such as, 1st Place Aged Cheddar at the 2005 Idaho Milk Processors Association Cheese Contest , Best Semi-Hard Cow's Milk Cheese at the 2007 American Cheesemaker Awards, and 2nd Place in Aged Cheddars 12 -24 months at the 2009 American Cheese Society, just to name a few.
Beecher's Flagship is a semi-hard cheese made from pasteurized cow's milk. Due to the long aging process of approximately 15 months, the cheese develops a uniquely robust, nutty flavor. Beecher's Flagship is extremely versatile and will work great crumbled into an omelet or frittata, melted into macaroni and cheese, sliced for sandwiches or burgers, or simply sliced on your cheese board. It is also a perfect pairing with dry wines like Pouilly Fuisse or Syrah, as well as your favorite IPA or Hefeweizen. To enjoy the full flavor, please allow the cheese to come up to room temperature before serving.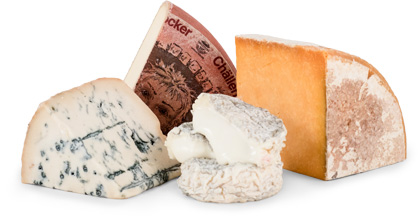 Experience International Variety
You might receive a Gaperon, originating in France during the 14th Century, an
authentic Lancashire by Ruth Kirkham, and an Italian Taleggio matured in the
caves of Valsassina…all in one shipment!
DISCOVER OUR TWO CLUBS