If you love an aged Dutch Gouda, then this month's Vintage Lot 36 Artikaas will change your life!
Artikaas gets its name from the town in The Netherlands in which it has been made for six generations, over 125 years. Today's cheesemakers combine traditional and sustainable cheesemaking methods that date back over 2000 years with modern-day technological advances to create enduring cheese masterpieces of texture and flavor to satisfy the growing international demand.
The ingredients of Artikaas are simple – pasteurized whole cow's milk, salt, cheese cultures, and vegetarian rennet. The Vintage Lot 36 is named as such because it has been aged 36 months – three years – in a premier, state-of-the-art maturation facility. This extended period of aging reduces moisture content, allowing for the development of a grainy, hard cheese with an intensely colored and textured paste and a complex flavor profile.
Visually, this cheese is a deep golden-orange color, a warm amber hue. The paste is firm and crumbly with loads of crunchy protein crystals, or as we like to call them, delicious bursts of concentrated flavor. Yet once the Artikaas is in your mouth, it becomes luscious and creamy, a melt-in-your-mouth treat. The Artikaas shows decadent, rich flavors of butterscotch, browned butter, caramel, roasted nuts, and whiskey.
Remove the Artikaas from the refrigerator at least 30 minutes in advance of serving to reveal its optimal aromas and flavors. It will stand on its own as the ideal snacking or dessert plate cheese because it is all at once savory, sweet, and tangy. It will be the star of the show on a cheese board accompanied by dried apricots, guava paste, fig jam, or fruit compote, plus a variety of nuts like pecans and walnuts. It can also be crumbled or grated atop pastas, pizzas, salads, and soups. Pair this cheese with a Dutch bock beer, a crisp hard apple cider, a Bordeaux-style or Rhône-style red wine, a white wine like off-dry Riesling or a Rhône-style blend, or Irish whiskey.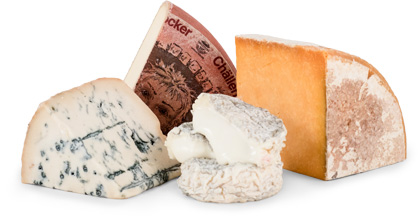 Experience International Variety
You might receive a Gaperon, originating in France during the 14th Century, an
authentic Lancashire by Ruth Kirkham, and an Italian Taleggio matured in the
caves of Valsassina…all in one shipment!
DISCOVER OUR TWO CLUBS