Named Arethusa for the small pink orchid that grew on the land, this Connecticut dairy farm was founded in 1868 by the Webster family. After the family sold the farm, its condition deteriorated. It had been scheduled for commercial development when, in 1999, George Malkemus III and Anthony (Tony) Yurgaitis purchased it with the intention of saving the land. They retained the Arethusa name and, a couple of years later, purchased their first five purebred registered Holsteins, later adding Jerseys and Brown Swiss to their herd. In 2004, Melanie, a Holstein, and Veronica, a Jersey, won Supreme Champion and Reserve Supreme Champion respectively at Wisconsin's World Dairy Expo. The following year, Veronica won Supreme Champion. Between 2009 and 2013, Arethusa became Arethusa Farm Dairy, the herd grew to 350, milk and other dairy production commenced, and the farm was recognized as the Premiere Holstein and Jersey Breeder at World Dairy Expo. In 2011, Arethusa Farm Dairy began making cheeses – nine different aged varieties – including this month's selection, the Arethusa Blue.
The Arethusa Blue is an award-winning cheese, earning first place in its category at the 2018 World Championship Cheese Contest. Its is reminiscent of a British-style Blue Stilton. Made with pasteurized milk from the farm's champion dairy herd, with an addition of extra cream for a higher butterfat content, this blue is aged four to six months in wheels weighing eight to nine pounds.
The Arethusa Blue is visually stunning with its chalky, tawny rind and ivory and blue-veined paste. On the palate, there is a veritable explosion of both texture and flavor. It is all at once fudgy, chewy, and melt-in-your mouth creamy with a smidgen of crunch from the vein pockets. This blue is pungent, but not overly so, showcasing saltiness, sweetness, tanginess, and a peppery finish. Crumble or melt the Arethusa Blue on burgers, eggs, pasta, potatoes, and salads, serve it aside fruit, or make it the centerpiece of your cheeseboard. Pair it with a variety of beverages such as the classic Sauternes, tawny or vintage port, sweet bourbon, a rustic Italian red wine, English-style barleywines, and hoppy IPAs.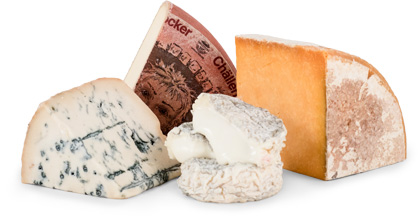 Experience International Variety
You might receive a Gaperon, originating in France during the 14th Century, an
authentic Lancashire by Ruth Kirkham, and an Italian Taleggio matured in the
caves of Valsassina…all in one shipment!
DISCOVER OUR TWO CLUBS