Alisios is the name of the trade winds that blow over the island of Fuerteventura in the Canary Islands off the Southern Coast of Morocco, where this lovely cheese selection is made. Its exotic location and ethereal name only add to the excitement and attractiveness of this semi-firm cheese aged two to three months, a magical mix of both pasteurized cow's and Papoya goat's milk covered with sweet pimentón – the source of Spanish smoked paprika. An award-winning cheese, Alisios took the World Cheese Awards' Super Gold in 2016. The Alisios ticks off all the boxes for a great cheese and is one of the tops on our list of favorite cheeses for this year.
While Alisios is crafted in small wheels, do not let its diminutive stature fool you. It is visually beautiful and loaded with inviting and delicious aromas and flavors – a veritable sight, smell, and taste of heaven – if you will. At first glance, this cheese is a real looker, with its deep, crimson colored exterior and creamy, golden paste inside. The brilliantly colored rind is rubbed with the aforementioned paprika of pimentón, which is not only gorgeous to the eye, but also adds a hint of sweetness to the nose and palate of the Alisios. The mélange of cow's and goat's milk produces a delectable combination of creamy texture and zingy taste. Umami flavors abound in this cheese's playful duality of savory and sweet. With regard to wine pairings, grapes of the Canary Islands, the Malvasia varieties, such as Malvasia bianca (white) and nera (red) – as well as rosé of Malvasia – are idyllic pairings for Alisios. Other wines we recommend are Provençal rosés, Spanish rosados, and Tempranillo. Another suggested beverage pairing is bourbon, which combined with Alisios will render an amazing dessert course at the conclusion of your meal. Alisios will also work wonderfully on your cheeseboard, as well as an accompaniment to Marcona almonds, pistachios, or dried fruits like apricots and figs.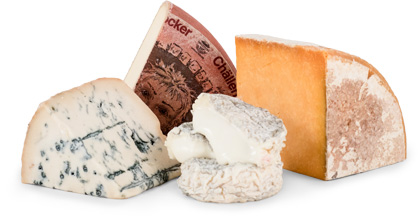 Experience International Variety
You might receive a Gaperon, originating in France during the 14th Century, an
authentic Lancashire by Ruth Kirkham, and an Italian Taleggio matured in the
caves of Valsassina…all in one shipment!
DISCOVER OUR TWO CLUBS