Artisanal Cheese Club Comparison Guide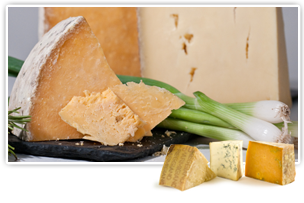 With so many online cheese of the month club options to pick from these days, The Gourmet Cheese of the Month Club™ wants to take a few minutes to point out how we've differentiated ourselves from the rest of the pack over the past 20 years. Everything comes down to providing our members with high-quality, hand-crafted, artisanal cheeses, ordering flexibility designed to match our customers' diverse needs, our passion for what we do, and dependably offering the kind of customer service that's earned us an A+ rating with the Better Business Bureau since 1994. No other cheese club shows its past selections from the last five years, or their up and coming featured cheeses for the next two years. We're proud of our current and past featured cheeses, and we know that you'll be impressed with them too. When you purchase a cheese club membership with us, you know what you're getting and exactly what your gift recipients will enjoy each month…before you pay for it.
With our artisanal cheese club comparison guide, you can compare us to other cheese clubs on the market, including Amazing Clubs, Clubs Galore, Murray's, Dean and Deluca, and iGourmet. Earning your patronage means everything to us, and we appreciate having the opportunity to show you what it takes to be the best online cheese club.
Give us a chance to earn your trust and Save up to $25 on your order!
| | CheeseMonthClub.com | Amazing Clubs | Clubs Galore | Murrays | Dean and Deluca | iGourmet |
| --- | --- | --- | --- | --- | --- | --- |
| Shows past featured products for last 5 years | | | | | | |
| Shows current and next year's featured cheeses | | | | | | |
| Offers Design Your Own Club™ Program* | | | | | | |
| Can order from 2-12 month gift memberships | | | | | | |
| Can order open-ended, personal memberships | | | | | | |
| Can pay monthly for gift memberships | | | | | | |
| Monthly newsletter detailing each cheese | | | | | | |
| Accredited A+ Better Business Bureau Rating | | | | | | |
| Partnered with top-rated Zagat's deli Zingermans® | | | | | | |
* Our Design Your Own Club® program allows you to easily combine any or all of our cheese, wine, chocolate, beer, and flower of the month clubs into a single custom membership, allowing you to ship or skip any club in any given month. You can even send more than one product in any given month. No other monthly cheese club offers that kind of flexibility. Check it out. It makes giving a gift a lot more fun!

Give us a chance to earn your trust and Save up to $25 on your order!

Delivering Quality and Variety for over 20 Years
Focused on great ingredients, creativity, variety, and quality, our cheese selection process is the cornerstone to our success. We've partnered with Zingermans®, one of the country's best delis as rated by Zagat's Gourmet, to bring you a wide variety of traditional farmhouse and artisanal cheeses, made from quality, natural ingredients. You can taste the difference when our featured selections are hand-cut from carefully aged wheels just before we ship them to you. For Antique Emmentaler, that means cutting each piece from a 200-pound round that's close to 4 feet in diameter. It's labor intensive, but that's what you've got to do when working with the real thing.
Unmatched Ordering Flexibility
As you can see in our cheese club comparison guide, our competitors don't allow their customers to order gift memberships at any duration from 2-12 months, and most don't allow you to order an open-ended, ongoing personal membership that can be cancelled at any time. None allow you to pay monthly as you go, and none allow you to combine a cheese club membership with other exclusive monthly clubs to create a highly customized membership with the same kind of versatility and flexibility capable with our Design Your Own Club® Program*. Our DYOC option is very popular among our customers, particularly those looking to building their very own wine and cheese of the month club!
With our 100% satisfaction guarantee, you can rest assured that your membership will meet your high standards. If you aren't completely satisfied, you can easily get a replacement or refund.
Thank you for comparing The Gourmet Cheese of the Month Club to other online cheese clubs. I hope that we have earned your trust and business.
Cheers,
We invite you to compare a few of our monthly clubs to the competition and see why we stand by our 100% customer satisfaction guarantee.