The historic sandstone Caves of Faribault may sound like they are located in the French countryside, but the home of the UMDIA 2014 Champion Artisan Cheesemaker Award is actually in Minnesota. Interestingly, the St. Peter sandstone caves where this month's St. Pete's Select blue cheese has been aged were carved in the 1850s for the Fleckenstein Brewing Company to store beer at cooler temperatures, and they've been used for aging cheese since 1930. The very first American blue cheeses were aged in these caves. Previously, all blue cheeses had to be imported from Europe. St. Pete's Select is one of three cheeses handmade today by the Caves of Faribault, and is still cave aged.
The Caves of Faribault Creamery, which claims to have produced the first blue cheese ever crafted in the U.S., makes three premium blue veined cheese available under the AmaBlu® label. Though each cheese shares similar pedigrees—each made with raw cow's milk, handmade in traditional open vats, and hand salted—only the St. Pete's Select featured this month is cave aged for over 100 days after being hand selected by four grading steps. St. Pete's also boasts taking Best of Class at the 2013 World Cheese Awards.
Cheesemaker Jeff Jirik describes his top-shelf blue as "complex, complicated yet delightfully intimate." The paste and mouthfeel are super creamy. This cheese has a distinctive spicy piquant sharpness and tanginess and the presentation is nothing short of gorgeous with its abundant bluing. Overall, it's a very approachable blue and not too overwhelming. St. Pete's Select blue will pair well with strong ales like AleSmith's Private Stock Ale or Deschutes Jubelale. It would also work well with your favorite tawny port.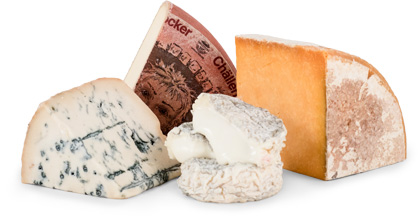 Experience International Variety
You might receive a Gaperon, originating in France during the 14th Century, an
authentic Lancashire by Ruth Kirkham, and an Italian Taleggio matured in the
caves of Valsassina…all in one shipment!
DISCOVER OUR TWO CLUBS