Memorable Wedding Party & Groomsmen Gifts!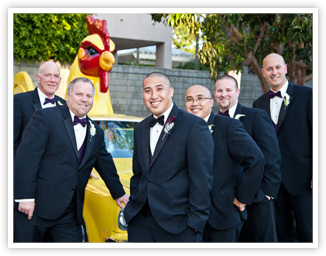 So you're getting married—now you have to assemble the wedding party! Selecting the members of your wedding party without hurting feelings can be harder than the decision to marry itself!
And just as you and your fiancée will have put in careful consideration in your selections, your Best Man, Groomsmen, Maid of Honor and Bridesmaids, will all feel a special sense of duty to ensure that the whole thing goes as smoothly as possible on your Wedding Day. For their efforts, honor those special members of your wedding party. And don't forget your parents, for all that they have done.
Show Your Appreciation Over and Over Again!
Give wedding party members gift memberships to any of our hand crafted microbrewed beer, premium cigar, gourmet chocolate, fresh cut flower, gourmet cheese, or international wine of the month clubs. In addition to giving them numerous opportunities to reminisce about your special day, you'll also be giving them occasions over which they will make their own wonderful memories!
Personalize Your Gift Announcements
Completely customizable gift announcements can be emailed on a specific date, or printed from our web site. Of course, if you find it more convenient, you may talk to us toll free at 1-800-625-8238 and we will handle it for you over the phone.
Budget Conscious Gift Solutions
Helping you stick to your budget isn't the top priority of many vendors, but it is for us! We offer a few options, and we'll be glad to offer suggestions when you order. For example, you may want to consider paying your memberships monthly, as they are delivered, so you don't have to pay all at once. Alternatively, you can lengthen your gift term by shipping a six-month membership every other month—giving your friends and family the whole year to enjoy their gifts—for the price of a six-month subscription.
Combine Multiple Clubs into One Gift Membership
Reward your friends and family with more than one type of club by combining clubs in a single membership. For example, you might consider alternating between gourmet cheeses and boutique wines. Or, you may want to give a 6-month membership that alternates between premium cigars, microbrewed beers, and boutique wines—sending two months of each service! Flexible membership subscriptions allow you the freedom to give any number of creative gift combinations! You are limited by your own imagination!